Cyber Security Consultancy
Let our experts become
your experts
At Forensic Control, we have a wealth of experience helping organisations of all sizes, across various sectors with their Cyber Security needs. Our team has worked in both the police and military, so we understand exactly what it takes to protect your data.
Whether you're just starting out with your Cyber Security implementation, or have a full internal team, we can help. We provide:
Our consultancy services are always tailored to the specific needs of your organisation, and we are available on an ad hoc, hourly, daily, or temporary basis. No matter how we work with you, our goal is always clear: to reduce the risk of cyber threats and protect your data and assets from theft or fraud.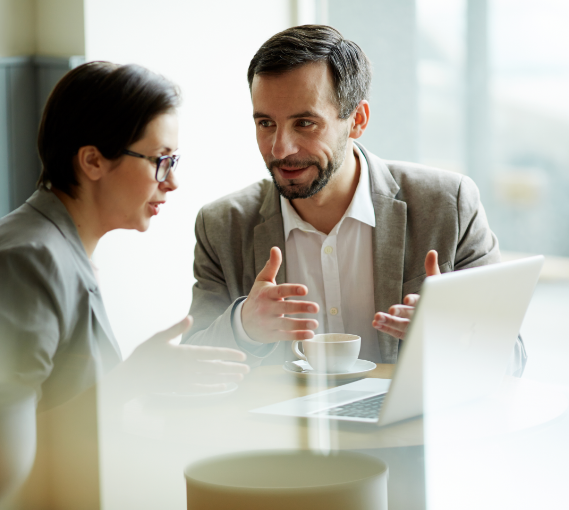 Trust us to help you protect what matters most.
Contact us today to learn more about our services.
If you need some extra support or help with your Cyber Security, our team is on hand – and ready to help.
Supporting our clients with down to earth advice, explained simply, is our mission. Don't just take our word for it though. Here are a handful of our testimonials from clients we work with.
"Expert and friendly support towards our achieving Cyber Essentials Plus certification. Clearly laid out the expectations for meeting the standards and navigated us through. Kept us on track even when business demands were pulling our attention elsewhere. Delighted to have the certification but our business gained a great deal from the journey too."
Lee Bartmanis, Head of Operations, Nurole
"I highly recommend Forensic Control to any organization seeking top-tier cyber security services. Their well-coordinated process, insightful guidance, and refreshing approach to cyber security set them apart. They are true experts in their field, and we are grateful for their invaluable contributions to our company's cyber security journey.
Five stars and a heartfelt thank you to Forensic Control and the entire team!"
Elon Schutze, Services Director, Know Why BV
"I highly recommend Forensic Control for any company embarking on their Cyber Essentials journey. From the moment we engaged with them, Jonathan and his team provided exceptional service, ensuring that we had all the necessary information and tailored advice specific to our company's needs. Their professionalism, knowledge, and commitment to their clients are truly exceptional. If you're looking for a reliable and highly competent partner to guide you through your Cyber Essentials journey, Forensic Control is the perfect choice."
Adam Maxwell, Security Specialist, Jisc
"I've had the pleasure of working with Jonathan on two occasions and on both times he has shown the utmost professional customer care. He was able to help us get our CE renewal over the line during out of hours just so there is no lapse between our CE. He's been very helpful in answering all my questions as I was leading the CE renewal for my company for the first time and it could not have been any easier."
An Le, IT Security Analyst, Save the Children
"Highly recommended Forensic Control. From the very start of our CE+ journey, Jonathan was providing tremendous service to us in order to ensure we had all the necessary information and advice specific to our company. They was consistently providing clear and helpful guidance in order for us to best succeed with our certification and as such had a great outcome! Big thanks to Jonathan and Forensic Control."
Christopher Price, Technical Operations Lead, Faculty
"We had our Cyber Essentials Plus certification done by Jonathan and his team. Quick responses and professional advice that went further than the scope. Brilliant service and aftercare. Going forward, we will be using Forensic Control services."
Maris Hakman, The Royal Foundation
"Forensic Control is a firm of professional cyber security advisers who guided our organisation achieve a ISO equivalent i.e. IASME Gold Standard accreditation over an 18 month period. Their service added a lot of value to our IT Governance and overall organisational security awareness and competencies."
Selam Shibru, Bank Worker's Charity
"Forensic Control have been professional, efficient and very responsive in any queries we had in regards to the company gaining it's Cyber Essentials qualification. We are continuing to use their services to progress to Cyber Essentials Plus. Highly recommend"
Francesca MacLeod, Cordless Consultant
"We are a small company that relies on the security of our data. Forensic Control has been perfect at keeping us protected and up to date with all the latest trends. Very efficient when we have needed help."
Andy Bibby, CEO 87%
Frequently asked Questions
 We're here to help with any questions you have about plans, pricing and supported features.
Cyber Security Consultancy
What is cyber security consultancy, and why is it important for our organisation?
Cyber security consultancy involves engaging experienced professionals to provide expert advice, guidance, and support in developing and implementing effective cyber security strategies. Consultants assess your organisation's current security posture, identify vulnerabilities, and recommend appropriate measures to mitigate risks. Cyber security consultancy is important for your organisation because it helps you navigate the complex and ever-changing cyber security landscape. It ensures that you have access to specialised expertise and industry best practices, enabling you to strengthen your defences, protect sensitive data, and effectively respond to emerging threats.
How does cyber security consultancy work?
Cyber security consultancy typically starts with an assessment of your organisation's current security posture, policies, and procedures. The consultant will evaluate your infrastructure, applications, data protection practices, employee awareness, and incident response capabilities. Based on this assessment, the consultant will provide tailored recommendations to enhance your cyber security posture. This may include developing or updating security policies, implementing security controls, conducting employee training, performing risk assessments, and establishing incident response plans. The consultant will work closely with your organisation to ensure the successful implementation of the recommended measures and provide ongoing support and guidance.
When should our organisation consider engaging cyber security consultancy services?
Consider engaging cyber security consultancy services in various scenarios, including:
a. Security Risk Assessment: If you want an independent and thorough evaluation of your organisation's security risks and vulnerabilities, cyber security consultancy services can help identify gaps and provide recommendations to mitigate those risks.
b. Compliance Requirements: If your organisation operates in a regulated industry or must comply with specific data protection standards, cyber security consultancy services can assist in ensuring compliance and avoiding potential penalties or legal issues.
c. Incident Response and Recovery: After experiencing a security incident or data breach, engaging cyber security consultancy services can help assess the impact, investigate the root causes, and develop strategies to prevent future incidents.
d. Security Strategy Development: If your organisation is in the process of developing or updating its cyber security strategy, cyber security consultancy services can provide expert guidance, helping you align your security initiatives with your business objectives effectively.
What are the benefits of cyber security consultancy for our organisation?
Engaging cyber security consultancy services offers several benefits for your organisation. Firstly, it provides access to specialised knowledge and expertise in the rapidly evolving field of cyber security. This enables you to make informed decisions and implement effective security measures tailored to your organisation's specific needs. Cyber security consultancy helps identify and mitigate vulnerabilities, reducing the risk of security breaches, data loss, and reputational damage. It also enhances your organisation's ability to meet regulatory requirements and industry standards. Additionally, cyber security consultancy services help build a culture of security awareness among your employees, promoting a proactive approach to cyber security throughout the organisation. Overall, cyber security consultancy empowers your organisation to strengthen its security posture, protect sensitive information, and maintain a resilient and secure environment.